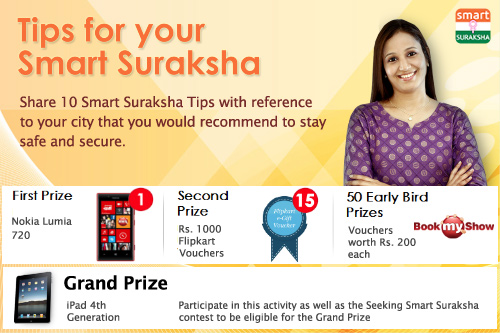 Here are my top 10 tips that can help in most cities. Especially in my city Bengaluru, the IT hub where business runs 24/7.
1.
Ask the driver ( auto-rickshaw or cab) his vehicle registration number ( even if you have seen it and noted it down) and text it to your Smart Suraksha contacts.
2.
If you do not want to ask the driver just note down the registration number and text it to your smart Suraksha contacts. ( minus the police)
3.
If you have failed to do step one and two, call up or pretend to call up one of your friends and let them know you are travelling in an auto/ cab and that you would reach in …. Pause for 10 seconds and then ask the driver how much more time it would take to reach via <mention a road that your GPS map shows>, thus signifying that you know the route well.
4.
Engage in a friendly conversation with the driver and let him know about Smart Suraksha.

He will let other drivers know and thus the news will spread and act as a deterrent for potential miscreants.
5.
Keep two levels of Smart Suraksha contacts. One for low level alerts for routine activities like

'I have left from office, will be home in 45 minutes' OR

' I am all alone at the bus stop, contact me if you do not hear in another 10 minutes'

and another one for high level alerts where you are in real danger.
6.
Always have your local police station and nearest hospital number on your level 2 Smart Suraksha contacts. Just in case you are with your family and friends who are part of your Smart Suraksha contacts and meet an emergency situation, the local police station and hospital number will come in handy.
7.
If you are alone and approaching a sparsely lighted parking lot, travelling on a two wheeler, alone at home or a potential vulnerable situation, send a low level alert via Smart Suraksha. Something which says

'I am navigating through a lonely strip. If you do not get a 'I am safe' message from me in the next 10 minutes please call back. Make sure you send the 'I am now safe' at the end of 10 minutes.
8.
In much the same way you see notices in public places saying

' This area is covered by CCTV surveillance' , carry a note in English or your local language that says ' My phone has Smart Suraksha apps installed'.
9.
Smart Suraksha – please note. You could enable a voice feature that beeps at regular intervals and says, 'Welcome to Smart Suraksha.

For your safety you are now currently accompanied by Smart Suraksha.'

All users can turn it on, in advance whenever they subject themselves to a potential vulnerable situation. With the voice enabled feature, even if you have been knocked down unconscious, either in an act of violence or because of an unfortunate accident, the people around you will be alerted that you are being tracked.

That way, your emergency contacts are available on the press of a button.
10.
At all times, men, women, children, all young and old should make sure their emergency contact number is updated as ICE.

( In case of emergency).

Emergency numbers can be dialled even if your smartphone is password protected.
I am participating in the
Seeking Smart Suraksha contest
at
BlogAdda.com
in association with
Smart Suraksha App
.
I am sharing my Smart Suraksha with Blogadda.com. The Favorite community of Indian in association with Smart SURAKSHA