The most memorable of my travels have been the solo travels that I have undertaken.
Actually a good deal of my travels have been solo.

Going solo, I have discovered over the years is what I am best suited for.
It is not that I shun company, but Going solo nurtures the free spirit in you, helps you enjoy your own way and keeps you free from the hassles of going dutch with other travelers.
On many such solo travels I have discovered plenty of women travelers like me who prefer going solo.
Wanderlust and lipstick is one such site to women globetrotters who go solo. Check the out over here.
Going solo is not any less safer than it is to go with a partner / family / friends.
After all your own safety is a matter of sheer common sense.
I am actually an over cautious traveler.

I

have a reputation of being careless and the one thing that freaks me out is the thought of getting into trouble when I am travelling solo.
Here are a few things that any solo traveller should do when setting out for a destination , whether on holiday or for work.
1.
Travel light. As much as possible keep your luggage minimal.

Just a cabin baggage would do. That way you steer clear of lost baggage and its nasty consequences.
2.

BACK-UP
Keep atleast 3-4 copies of your contact numbers and emergency numbers, email id and physical address and spread them out in your hand baggage, purse, wallet, jeans pockets and pasted on the back on your mobile phone.

Scan your passport, visa, credit card, tickets and all other essential details and send them to your own email and to someone close to you before you set out to travel.
3.
Bling
:

Here is an interesting advice that a much-travelled woman gave me during one of my Himalayan Treks. Always wear some gold jewellery. A gold ear ring, finger ring or a gold chain can actually protect your life. In rough hilly terrains where landslides, earthquakes, road accidents

and avalanches are common, more often than not, it is the poverty stricken locals who would come to the rescue of the trapped victims.

It costs money to transport the traveler to a hospital and no good Samaritan would be able to take quick action, if he /she does not have the

money.

You can ensure that he/she does not feel the pinch in his pocket if, on your body, there is something that can take care of the costs of rescue operations. This is true especially in India, where pizza arrives faster than the police,

when there is an emergency.
4.
Money matters :
It really helps if you keep some cash along with the wallet and stick a note saying, ' if found please return the contents to XXX

and feel free to take the cash' .

If you have lost your belongings out of your own carelessness, the finder would usually be a good Samaritan who would want to return it you, only if he /she knew your whereabouts and does not have to spend through his/her nose to reach you.
5.
Danger :
Most muggers only need some Beer money. Your life is of no significance to them. Be generous :)
6.
Plastic that protects :
Keep

a thin pouch preferably a water proof plastic one, pinned up or stitched across between the insides of your Jeans packet and just over your undergarments.

Inside it stuff your passport, some

cash, a credit or debit card and a spare mobile phone if you have one.

Unless you are stripped naked and raped, this protection serves anyone well. You can be knocked unconscious in an accident, can drown in a sea or be mugged on the streets. Your basic essentials are still intact for help to reach you and the rest of the losses can be made up.
7.
Anytime ... anyplace :
If

you are staying in youth hostel or any such place where you share accommodation with fellow travelers, keep this pouch close to your body even when you are sleeping. An earthquake, fire emergency, terrorist attack

or flash floods can occur while you are fast asleep in your pyjamas.
8.
Trust and mistrust

:
Beware of strangers, but trust people. Most people are usually helpful in a selfless way. Trust your instincts and keep away from lonely places, being alone with a stranger especially if he /she is overly helpful.
9.
Technology helps :
With GPS, you can keep yourself

abreast with your location map and therefore the need to ask strangers for directions is pretty minimalized. Constantly call your folks and let them know what you are upto. Tweet, update your facebook or send irritating messages and pictures of the exotic places you are visiting to all your close contacts at regular intervals. If something goes amiss it will ring a bell in your well wishers, the world over. Use Smart Suraksha apps to the hilt and send level one updates to all your smart suraksha contacts letting them know you are safe. That way you do not have to trigger your level two emergency

buttons

on your Smart Suraksha app ever.
10.
Fun and safety
:
It is not like a solo traveller cannot have fun. But if you plan to get a little tipsy, make sure you are not among strangers, do not have to drive, take public transport or have a flight / train /coach to catch immediately afterwards.
Being responsible for yourself and exercising moderation are the two mantras that can make 'Going solo' a very safe, fun and liberating experience.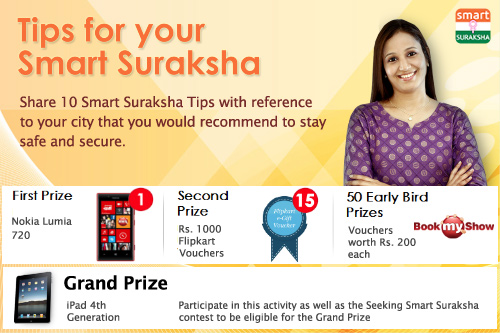 This is my second submission for '10 Tips for your Smart Suraksha'.